Ikipele BLACK
€ 159,99
Ik brand op houtpellets

Ik brand op houtgas

Ik brand zonder rookvorming

Ik ben gemaakt van gietijzer

 Ik ben makkelijk mee te nemen

Eenvoudig te ontsteken

Snel geleverd
Ikipele starterspakket bevat: 
– 1 x Ikipele BLACK
– 6 x 500 gram houtpellets (navulling)
– 1 x stalen handvat (inclusief flesopener)
– 1 x leren draagband
– 1 x Ikipele voet
3 op voorraad
Beschrijving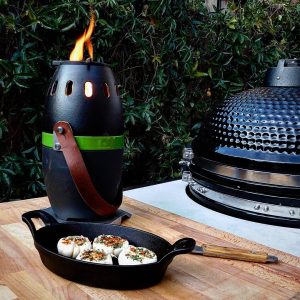 Hoi! Ik ben IkiPele BLACK. Leuk dat je geïnteresseerd bent in mij!
Uiteraard zal ik je niet teleurstellen en ik zal een warme metgezel voor je zijn. Je kan mij gebruiken op je terrastafel, in de tuin, op de camping, in het park of bijvoorbeeld aan het meer of aan zee. Ik ben draagbaar dus je kan mij zeer gemakkelijk meenemen. Je vult mijn branderkamer simpelweg met één vulling houtpellets en ik brand zo'n 1,5 uur. Door het houtvergassingsproces in mij heeft mijn verbrandingsproces een extreem hoog rendement en zal ik daardoor ook heerlijke warmte uitstralen. Mocht je ook nog trek krijgen… Je kan een pannetje op mij plaatsen voor het bakken van een heerlijke lekkernij. En de kids vinden het vast fantastisch om marchmallows op mij te roosteren.
Mijn stats zijn:
Brandstof = Houtpellets
Hoogte (32 cm)
Breedte (19 cm)
Gewicht (3 kg)
Materiaal (Gietijzer)