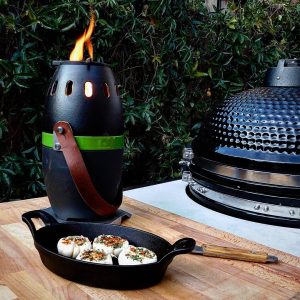 Ik ben de IkiPele, een klein, draagbaar kacheltje dat brandt op houtpellets en ik maak voor het verbrandingsproces in mij gebruik van houtvergassing. Daarmee behaal ik een extreem hoog rendement en ik brand heerlijk warm, CO2-neutraal, superschoon en zonder rookvorming. 
Juist daarom ben ik graag jou warme metgezel op zwoele zomeravonden of juist tijdens de winterbarbecue. Gebruik mij in je tuin, op het balkon, op het strand of neem mij mee op reis. Ik ben van Nederlandse makelij en design, maar draag een naam van Hawaï. Mijn naam IkiPele betekent namelijk 'kleine vulkaan' op het vulkanische eiland in de grote oceaan.
Ik ben verkrijgbaar in 3 kleuren, gemaakt van onverwoestbaar gietijzer en heb in mij een stalen blik met luchtgaten. Je vult het blik (mijn verbrandingskamer) met één vulling houtpellets en plaatst het blik terug in mij. Na ontbranding zal ik na ca 5 minuten houtgas gaan afgeven aan het ontstane vuur. Dit gebeurt door een speciale techniek van het vergassen van de superschone en CO2-neutrale houtpellets in mij.
Door het unieke ontwerp van de verbrandingskamer wordt het ontstane houtgas teruggevoerd naar de vlammen. Je zal dan zien dat mijn gele vlam veranderd in een blauw / groene vlam. Dit is het moment dat je mij van mijn beste kant gaat zien en voelen. Ik bereik dan mijn hoogste temperatuur met een extreem hoog rendement en ik vorm geen rook. Mijn vlammen zijn ongeveer 1 uur zichtbaar. Daarna zal ik nog zo'n 45 minuten warmte afgeven door mijn gietijzeren huid. En uiteraard kan je mij na zo'n 2 uur weer opnieuw ontsteken. Let er wel op dat ik volledig uitgebrand ben voordat je mij opnieuw vult met houtpellets.
Heb je lekkere trek? Zet een pannetje op mij en bereid een heerlijk gerecht op mij of maak een vers kopje thee op mij. Heb je kinderen? Die zullen het absoluut geweldig vinden om marshmallows op mij te grillen. 
Bestel mij in de webshop
Warme groet, IkiPele