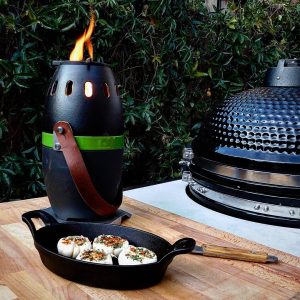 I am the IkiPele, a small, portable stove that burns on wood pellets and I use wood gasification for the combustion process inside me. This gives me an extremely high efficiency and I burn wonderfully hot, CO2-neutral, super clean and without smoke.
That is why I am happy to be your warm companion on balmy summer evenings or during the winter barbecue. Use me in your garden, on the balcony, on the beach or take me along on your travels. I am of Dutch manufacture and design, but carry a name from Hawaii. My name IkiPele means 'little volcano' on the volcanic island in the Great Ocean.
I am available in 3 colours, made of indestructible cast iron and have in me a steel can with air holes. You fill the can (my combustion chamber) with one filling of wood pellets and place the can back in me. After ignition, after about 5 minutes, wood gas will start to be emitted from the resulting fire. This is done through a special technique of gasification the super clean and CO2 neutral wood pellets in me.
Due to the unique design of the combustion chamber, the resulting wood gas is returned to the flames. You will then see my yellow flame change to a blue/green flame. This is the time when you will see and feel me from my best side. I then reach my highest temperature with extremely high efficiency and I do not form smoke. My flames are visible for about 1 hour. After that, I will give off heat for about 45 minutes through my cast-iron skin. And of course you can reignite me after about 2 hours. Make sure that I am completely burnt out before you refill me with wood pellets.
Are you hungry? Put a pan on me and prepare a delicious dish on me or make a fresh cup of tea on me. do you have kids? They will absolutely love grilling marshmallows on me.
Order me in the webshop
Warm Greetz, IkiPele