IkiPele | Technique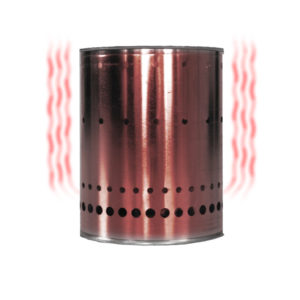 IkiPele uses wood gasification. The unique design of the burner chamber and the shape of the stove create a unique process after ignition. Because the burner chamber is perforated in exactly the right places, the wood gas can escape through the underside of the burner chamber. The convection in the stove leads this wood gas upward and is added back to the flames through the openings at the top of the burner chamber. This creates extremely high efficiency and very clean, CO2 neutral combustion.
Before the wood gas does its job you will see a yellow/orange flame in the stove. When combustion is complete, wood gasification will enter. You will then see that the color of the flame changes to blue. A clear sign that wood gasification has set in.
For Ikipele to perform optimally, we have made a special selection of wood pellets. We use only 100% softwood pellets from the best regions of the world. Because of these pellets, Ikipele will be super clean and safe to use.
You can order refills for Ikipele from us. With a refill, you will also receive a new burner chamber. So you can enjoy your warm companion at its best and for a long time on balmy summer evenings or during winter barbecues.
Refilling IkiPele is done only when the stove is completely burned out.
Ikipele and refills can be ordered in our webshop